We've all heard the phrase, "It looked good on paper,"—meaning that an idea appeared to work in theory—but not when it was actually put to life. Many business processes can "look good on paper." Organizations know how a process is supposed to function—in theory—but in reality, often, the process is pocked full of gaps and bottlenecks. This is where process mining comes to the rescue.
78 percent of Digital Transformation Initiatives Fail
Organizations have bought into automation and other tools—$806 billion, spent globally—to increase process efficiency and cut costs. But many have added tools without fully understanding their processes or knowing if they're operating at maximum efficiency—often, they're not. This leads to perpetuating poor processes. According to one report, 37 percent of decision-makers admitted that "misunderstood processes" delay their initiatives or fail together—78 percent of digital transformation initiatives fail.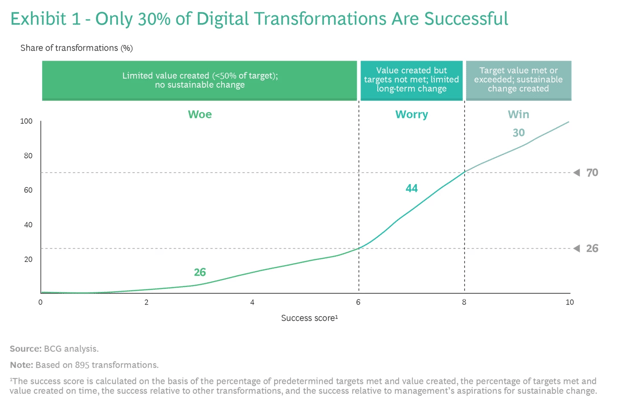 Source: BCG "Companies Can Flip the Odds of Success in Digital Transformations from 30% to 80%", 2020
Optimizing business processes before digitizing is an essential step in any process transformation. This is particularly true when an organization bears complex or fragmented processes. Without optimization, you're just digitizing old problems and possibly creating new ones—reducing organizational productivity and efficiency; increasing costs, customer frustration, and employee turnover; and perhaps leading to missed business opportunities.
Processing Mining Market Rise
Fortunately, many enterprises have realized their failure to optimize processes needed to be addressed and have looked to additional tools to help them optimize—such as process mining tools. Though process mining isn't a new technique, the evolution of AI and process automation, along with a post-pandemic return to efficiency and business continuity, has spurred interest and, thus, growth in the market. The global process mining software market value hit $635.24 million in 2022. By 2028 it's predicted to touch $2.38 billion—a 24 percent CAGR expansion.
"[Processing mining alone] cannot fix your broken processes. An organization must be able to interpret their end data and devise a fix."
- Pranita Rai, Sr. Director, Client Engagement , Genzeon
More Data for More Efficiency
Organizations are now looking to process mining as an integral part of their process optimization and process mapping efforts to reach maximum potential efficiency. The technique can reveal precisely how a process functions—not just in theory—and identify their dependencies but also problem areas such as gaps, redundancies, bottlenecks, inconsistencies, etc.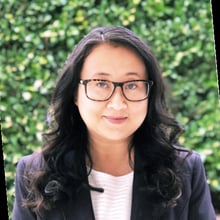 Pranita Rai, Senior Director, Client Engagement and Digital Engineering at Genzeon, said, "In the past, somebody had to sit and map out a process. People had to literally draw boxes to map a process and discover how the process was working in real-time." This manual process mapping often involved process management experts with Six Sigma certification who would collaborate with an organization's leaders to understand their production and, from there, draw out the process. Some projects could take months to complete.
Current process mining tools have come a long way to make the endeavor much more accurate, efficient, swift, and in-depth. A project that would take months with manual process mapping can now be completed in a few weeks—as long as the data is there. Pranita, stated, "With process mining, the more data you have, the better the potential outcome. However, as insightful as processing mining is, it cannot fix your broken processes. An organization must be able to interpret their end data and devise a fix."
Cost-savings and maximum process efficiency require much more than just a ton of tools. Organizations must apply those tools correctly and understand their processes' true fingerprints beyond what works "on paper." Process mining accelerates your process discovery, mapping, and cycles to improve the processes efficiency. Process mining tools are an invaluable tool for Six sigma professionals to kick-start process transformation journeys. These tools deliver insights that were never accessible before and can accelerate time-to-value and time-to-market. According to its market value, organizations have realized this.
To get more information about intelligent automation and optimizing business processes for maximum efficiency, visit Genzeon.com