Healthcare margins are slim. Wage inflation, revenue loss, and talent shortage have all contributed. Many have looked to automation to pick up the slack and help reduce costs. Yet, many of these digital transformation efforts have stalled at various stages of implementation.
Recently, Becker's Hospital Review and Genzeon leaders conducted a webinar detailing how Genzeon can help healthcare organizations avoid stalling their digital transformation progress and accelerate their value.
Let's look at the highlights from the webinar:
According to a McKinsey report, 70 percent of digital transformations fail to meet their objectives largely due to factors within the organization's control. Many of these initiatives—38 percent—during their scaling phase, 12 percent stalled in the pilot stage. They're barely getting off the ground. The number one cause for obstruction was resource issues—20 percent—and 14 percent cited lack of clarity, and another 14 percent pointed to insufficient alignment across the organization.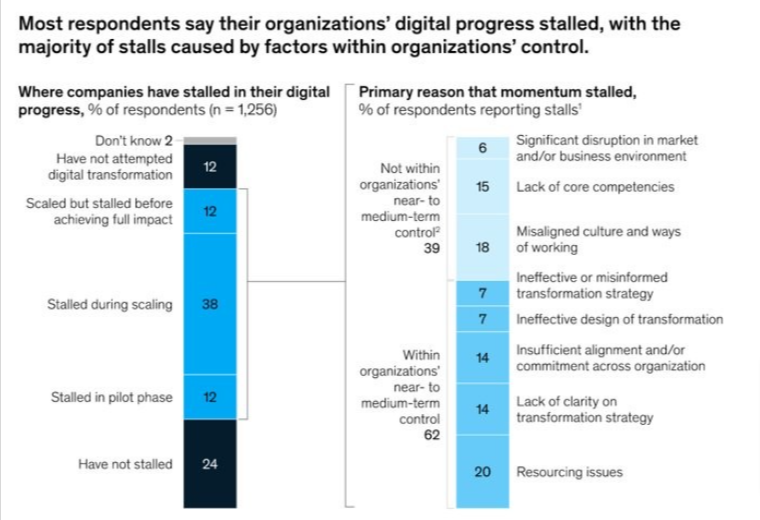 "The method to the madness is that you measure before and measure after, create a backlog, and from that you can prioritize automation." - Cherodeep Goswami, CIO, UW Health.
How Can Organizations Successfully Implement Digital Transformation?
Harsh Singh, Genzeon's GM of healthcare, said that one of the hardest questions for an organization to answer in its initial phase is, "Where to start? "What is the right opportunity? And I think that's where we spend a lot of time with our clients." It all begins with identifying the right opportunity.
The Three Stages of Value Realization
(1) Identify the Right Opportunity
In this initial phase, organizations determine the appropriate processes or tasks to automate. They can do a market scan to identify areas of opportunity and then conduct a bottom-up assessment to prioritize the opportunities.
Harsh said, "When you're thinking about scale and defining your outcomes, what you identify as opportunities really makes the biggest difference in terms of your ability to achieve that outcome and the desired results." Look at what you can automate that will allow workers to focus on higher cognitive tasks. But also consider the culture of your organization—look at appropriate use cases and consider your organization's readiness for automation. Chero Goswami, CIO of the University of Wisconsin Health System, said, "Culture can become one of the biggest hurdles."
Kali Durgampudi, CTO of Zelis added that you can look for opportunities to address labor shortage through automation. "The need for productivity and efficiency is increasing, but we see labor shortages … and you take advantage of that through automation. Automate a functions machines can do and let humans concentrate on the high-cognitive tasks."
(2) Scale Value Creation
The second phase involves starting small and being objective and realistic. Begin with a simple use case for a standardized process for a sustainable program. Chero said, "It's really important once you once you pick an idea, to measure it. That gets you to the ROI cutoff. Then the other aspect of it is that it also creates an opportunity to build your backlog and as your backlog is coming you then assess where the maximum ROI opportunity is. Once you become good at measuring the before and after, you take the top priority 'before' examples and that's how you scale to the organization. The method to the madness is that you measure before and measure after, create a backlog, and from that you can prioritize automation."



(3) Articulate Value
Potential value goes beyond operational saving to include revenue generation and improved experience. Finally, partner with your CFO to determine your return on investment (ROI) cutoff. Particularly in healthcare, value goes financial numbers.
Chero recommended, "always say measure, measure, measure, but also listen to the stories; also listen to the experiences. There is value in that, there is value in learning, retaining, and augmenting enterprise knowledge. There is a value in anticipating, predicting, and minimizing uncertainty back to your volumes. There's value coping with increase in complexity and ensuring adaptability."
Harsh rounded out the webinar with this thought: "I think there is a cultural aspect to all three steps. There is a technology aspect, yes, you can process mine, and you can determine what those opportunities are at the task level, but there is a culture of identifying the things that I think I see in my organization—my division, my tasks—that can be automated and bringing that to the table. There's a culture aspect to that.
I think just like value, for example, value is patient safety in healthcare or passenger safety in the Airline industry--I think value also has a cultural attribute. Culture is the underlying fundamental that goes across this framework of value realization across all of three steps."
If you'd like to be sure you haven't missed anything interesting, watch the entire webinar and follow along with the slides.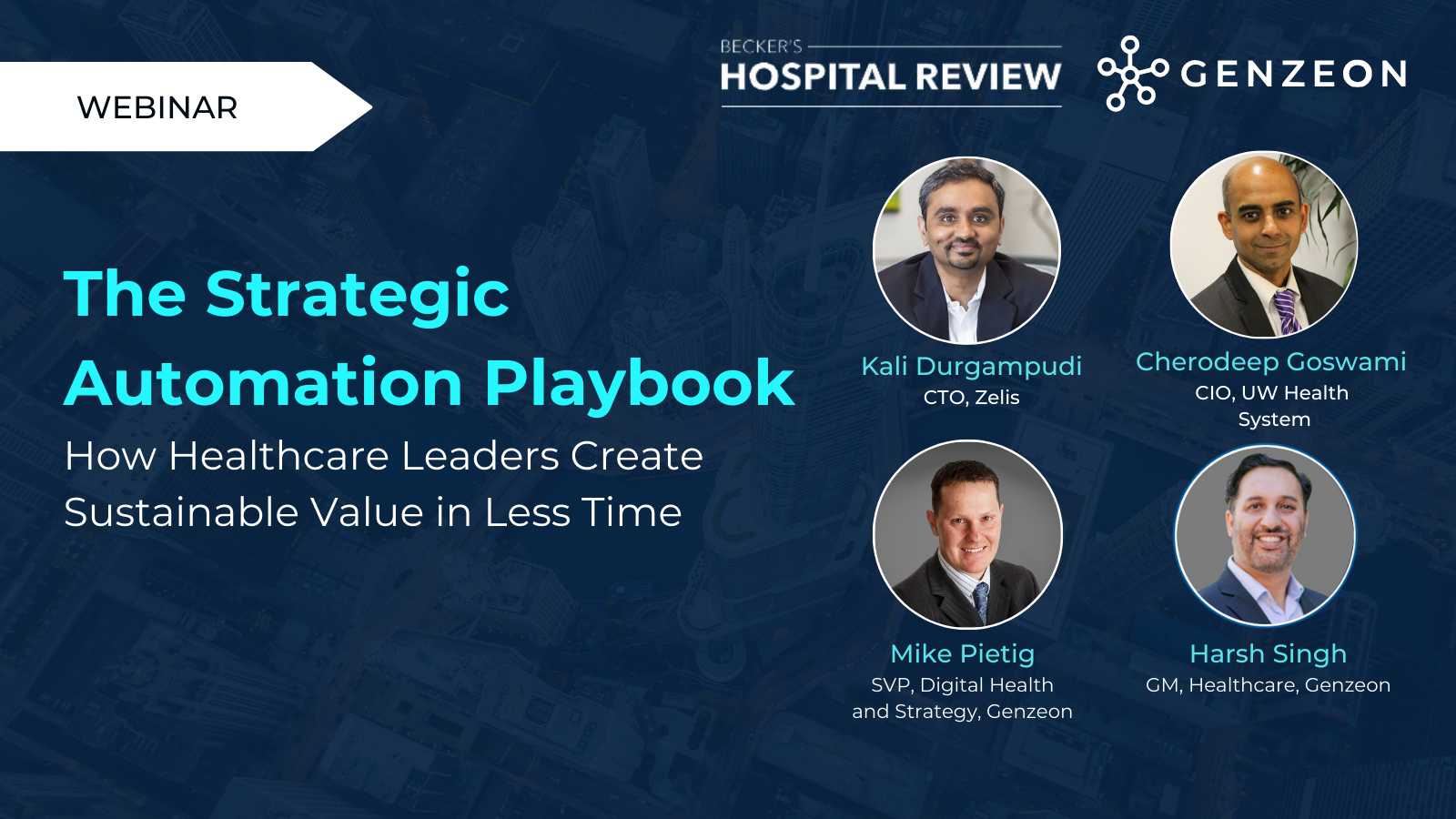 To learn more about finding the value in your automation initiatives, visit Genzeon.